Full load testing for self priming pumps with pneumatic system
Range : Up to 30 Amp.​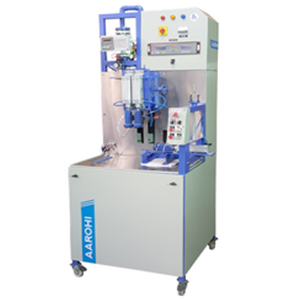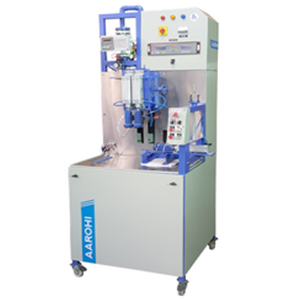 Aarohi developed a semi-automatic performance testing panel with a pneumatic system for loading & unloading of pumps which helps to enhance productivity & work efficiency of your Manufacturing plant.
it is suitable for testing of Submersible/ Open well/Self-priming/ Monoblock/ Centrifugal Pumps.
| | |
| --- | --- |
| Parameter​ | Description​ |
| Range​ | Up to 30 Amp.​ |
| Loading & unloading system​ | Pneumatic system​ |
| Parameter measured​ | V, AMP, KW, Freq., RPM, Flow, Suction & discharge pressure.​ |
| Computer interface​ | Rs 485​ |
| Delivery line​ | Up to 1.5"​ |
| Water tank ​ | SS material with 225 Liter capacity​ |
| Fabrication structure​ | made up of Powder-coated angels with a Front plate with SS material​ |
| Pump Resting plate​ | Made up of SS material ​ |
| Software​ | Pump analyser plus software for all types of pump with real-time data monitoring & Performance report generation with required graph.​ |
| Data login​ | Manual by clicking log button on a computer system​ |
| Protections​ | MCB for overload protection​ |
| Output connections​ | Wago lighting connectors (Screwless)​ |
| Voltage control​ | Though dimmer up/ Down center return switch​ |
| Pressure control​ | Automatic control through motorised valve according to the entered database.​ |
| Operating panel​ | On the front side with On/Off, Priming, Cylinder up/ Down & Voltage up/down control​ |
| | |
| --- | --- |
| FEATURES​ | BENEFIT​ |
| Pneumatic system for loading & unloading​ | Reduces testing cycle time​ |
| Operating panel on the front side.​ | Gives easy & fast operation for operator.​ |
| Report generation with a graph as per IS standards​ | No need of a highly qualified person for testing​ |
| Computer interface through RS-485/ Rs-232​ | Data acquisition is very easy by just clicking. ​ |
| Cross slide used to mount cylinder​ | ​Create a good impression on visitors |
| Aesthetic design of a panel​ | ​Give vide range of capacitor selection |
| ​Pump resting plate is made from SS material | ​SS material prevents it from rusting. |
| ​ | ​ |
Pump testing set up for the assembly line.

​

Repairing/ Service centers

​

Pump testing labs.

​

Lab. for educational institute

​
Related Products