Fully Automatic Full Load ( Performance) Testing Panel For All kind of Pumps
Range : Up to 300 Amp.​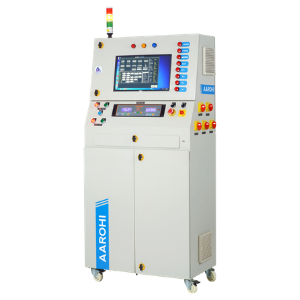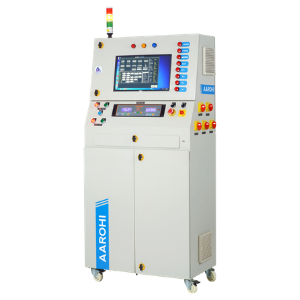 To reduce human effort and minimize manual error Aarohi developed a Fully automaticFull Load performance testing panel.
With the help of cutting-edge technology, this panel helps to enhance productivity & work efficiency. More than 1500K Indian pump manufacturer ware installed this system & satisfied with the performance. it is suitable for testing of Submersible/ Open well/Self-priming/ Monoblock/ Centrifugal Pumps.
| | |
| --- | --- |
| Parameter​ | Description​ |
| Range​ | Up to 300 Amp.​ |
| Enclosure (Panel) type​ | ATM, Cupboard​ |
| Parameter measured​ | V, AMP, KW, Freq., RPM, Flow, Suction & discharge pressure.​ |
| Computer interface​ | Rs 485​ |
| Suitable Motor type ​ | 1, 2 & 3 phase motors​ |
| Motor forward/ reverse function​ | Yes, By changeover switch ( Panel mounted up to 100 Amp.)​ |
| Software​ | Pump analyser plus software for all types of pumps with real-time data monitoring & Performance report generation with required graph.​ |
| Data login​ | Manual by clicking log button on a computer system​ |
| Protections​ | MCB/ MCCB for overload protection, Isolation transformer for auxiliary protection.​ |
| Output connections​ | Screwless terminals inside panel​ |
| Voltage control​ | Though dimmer up/ Down center return switch​ |
| Pressure control​ | Manually by a throttling valve​ |
| Enclosure/ Panel colour​ | Siemens grey​ |
| Capacitor selector ​ | Automatically select as entered in the database.​ |
| | |
| --- | --- |
| FEATURES​ | BENEFIT​ |
| Automated pressure control system​ | Reduces manpower requirement​ |
| Report generation with a graph as per IS standards​ | No need for a highly qualified person for testing​ |
| Automated data logging ​ | Data acquisition is very easy without human intervention​ |
| Operator friendly operation​ | Increases work efficiency ​ |
| Aesthetic design of a panel​ | Create a good impression on visitors​ |
| Client server-based software​ | Anyone can access from a network​ |
Pump testing.

​

Repairing/ Service centers

​

Pump testing labs.

​

Lab. for educational institute
Related Products