Electromagnetic Flow meter With Integral
Flowmeter Range: Dn25-Dn300 (Above 300mm On Request Up To 1500mm)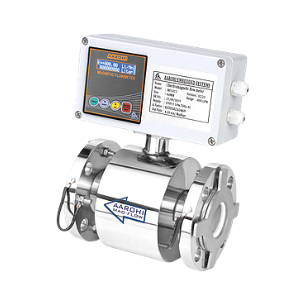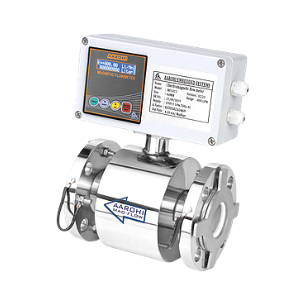 An Electromagnetic flow meter is manufactured with state of the art technology. A magnetic flow meter (magmeter, electromagnetic flow meter) is a transducer that measures fluid flow by the voltage induced across the liquid by its flow through a magnetic field. Microcontroller based design provides precise measurement. electromagnetic flow meter works on the principle of faraday's low of electromagnetic induction.
Diameter
PTFE:DN6-DN600, Neoprene/ Hard rubber: DN50-DN 2200, Sanitary Type: DN10-DN100.
Accuracy
±0.5% of rate; ±0.2% of rate
Velocity
0.3-10m/s
Electrical conductivity
> 5 µS/ cm.
Flow Direction
Forward or reverse (Programmable)
K- factor
Present.
Flow unit
Programmable
Repeatability Error
±0.1%
Display
16/2 LCD for flow rate & totalizer.
Communication
RS 485 / RS 232 (Optional on request)
Power supply
220 Vac / 24 Vdc / 110 V ac / 415 Vac
Operating Temperature
Hard rubber/ Neopren liner:-20 …+60℃
PTFE liner: -20…+140℃
High-temp PTFE liner: -2O…+ 18O℃
PFA: -20 …+180℃
Nominal working pressure
10 BAR standard. ( > 10 BAR on request.)
Memory
Inbuilt nonvolatile
Output
4-20 mA isolated, Pulse (On request)
Empty pipe detection
Yes
Pulse, frequency & isolated 4-20 mA output.

Empty pipe detection.

Online data can be transferred by using a GSM modem.

Low maintenance.

Rate indicator, Totalizer & Batch function.

Easy installation & maintenance.

User-friendly operating.

Computer interface measurement.

Linear & accurate measurement.

Extra thick linear ensures long life.

Smooth inner tube no pressure losses.

Measurement is independent of fluid property like viscosity, density, etc.
Water treatment.

Pump testing.

Food & dairy processing.

Chemical Process plant.

Paper  & pulp industry.

West water & Sewerage system.

Effluent Treatment Plants.

Pharmaceuticals.

Water Distribution and Irrigation.
Related Products
Flowmeter Range: DN25 To DN1000 (Above 1000MM on request up to 2200MM)
Read More